On or around Saturday August 15, 2020
Virtual Falmouth Walk
Register online at www.falmouthwalk.org
For 29 years the Falmouth Walk has supported many local Falmouth charities. Started by friends Eddie Doyle and Tommy Leonard the annual event has brought thousands of people together for a day of exercise, camaraderie and giving to those in need.
Summer of 2020 needs to be different. The Falmouth Walk committee embraces this difficult time as an opportunity to try something new for the organization—the 2020 Virtual Falmouth Walk is on the calendar for Saturday August 15th!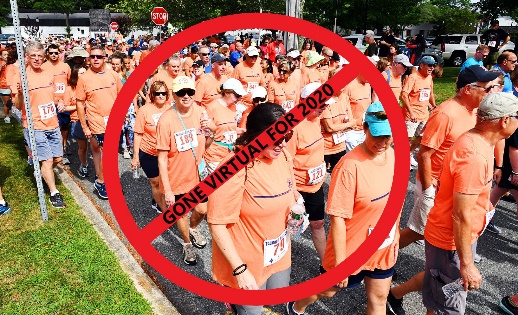 On or around Saturday August 15, 2020, which is also co-founder Tommy Leonard's birthday, walkers across the country will join legends from the running community Bill Rodgers, Frank Shorter, Rod Dixon, and others for a 5k walk around their hometown neighborhood. For the safety of the Falmouth community and all participant, this year's virtual walkers are prohibited from using the traditional Falmouth Walk route. Walkers submitting their personal route to falmouthwalk@falmouthwalk.org by 9/1/20 have a chance to win a free entry to the 2021 Falmouth Walk. A free entry to next year's Walk will also be given to the most creative route submitted as judged by co-founder Eddie Doyle.
Registration is open at www.falmouthwalk.org. The entry fee of $30 includes a "2020 Virtual Falmouth Walk" t-shirt, official walk bib number and raffle entry for all registering by 7/15/20. Walkers can opt out of receiving the bib & t-shirt to increase funds distributed to the charities. Additional donations can also be made during the registration process. The 13 charities that the Walk supports are in great need in this time of uncertainty. Visit our website at www.falmouthwalk.org for more information about the charities that we support.
This year the Falmouth Walk Committee is giving back to local businesses by purchasing the gift cards for the raffle – our humble way of thanking them for 29 years of generosity. Items will be raffled using the bib numbers. Those opting out of receiving the t-shirt & bib will be given a virtual bib number and included in the raffle.
The Committee is excited to host this 2020 Virtual Falmouth Walk and continue the tradition of giving. Additional activities are under development, such as, an online auction for some of those wonderful items traditionally donated to the annual Falmouth Walk and a special 2020 Virtual Falmouth Walk video.
All proceeds benefit Falmouth charities:
Around the Table Meals Program
Belonging to Each Other
Community Health Center of Cape Cod
Ellen T. Mitchell Scholarship Fund
Enterprise Community Fund
Falmouth Housing Trust
Falmouth Military Support Group
Friends of Falmouth Senior Center
Falmouth Service Center
People for Cats
Preventive Partnership at Gosnold
Tommy's Place Foundation
10-19 Foundation
Premier Sponsors
Gold Sponsors
Cooperative Bank of Cape Cod
Silver Sponsors
Cutter Financial Group
Four Ponds Financial Planning
Lawrence Lynch Corp.
L.L. Bean
Poland Spring
Quarterdeck
Samuel Adams
Smitty's Ice Cream
Wishing Well Farm
Bronze Sponsors
Dunkin;
Rockland Trust Bank
See more at www.falmouthwalk.org and follow them on Facebook (FalmouthWalk) and Instagram (Falmouth_walk).