On Wednesday, April 3rd, Falmouth Housing Trust held an open house and ribbon cutting ceremony to celebrate the completion of a three-bedroom, two bathroom affordable workforce home on Deer Pond Road in East Falmouth.
Fundraising and property development for the Deer Pond Road project began in the fall of 2018 with construction completed in March 2019. Development costs totaled over $300,000 and the home was sold under a permanent deed restriction as "affordable" for $195,000. As with all affordable housing, the permanent deed restriction ensures that future owners will benefit from the property's affordability status in perpetuity.
The Deer Pond Road project was made possible by a generous couple who donated the land to FHT specifically for affordable housing development along with the financial contributions of private donors and a $65,000 contribution from the Town of Falmouth's Affordable Housing Fund, which is part of the Town's Community Preservation Fund — THANK YOU to all who made this home possible!
The affordable homeownership eligibility and lottery process was conducted by the Housing Assistance Corporation. We are very pleased to report that in February 2019 a single father of two boys, ages 9 and 11, who is a Falmouth native that works in food service in Woods Hole won the lottery.
It is the first house this family has ever owned. They moved in in April. FHT is thrilled that they now have a permanent home in our community!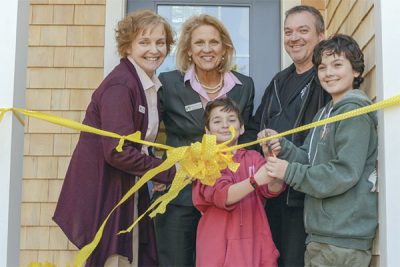 FHT President Joanne O'Sullivan and
Executive Director Karen Bissonnette with
Charro Zuck and his sons Niko and Dante