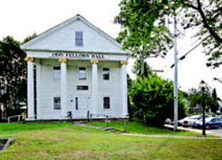 The Falmouth Housing Trust was selected by the Town of Falmouth to develop four units of rental community housing at this municipally owned site.  The Trust purchased the property from the Town of Falmouth in October of 2105.
Currently FHT is under construction, and expects the project to be completed in the fall of 2016.  Important project facts to note:
Odd Fellows Hall is a historically significant building located outside a Historic District,
Katherine Lee Bates attended school there, and the buildings original purpose was as a Village School for Falmouth,
Its present iteration is not original, as it was built without columns, a porch and portico; those items were added after it was moved back and rotated, off Main Street,
This project is an Adaptive Re-use project; taking an older building no longer in use as intended and adapting it to current needs and requirements, (code compliance, etc.);
The property is located on the sewer line;
The project will include four open concept studio apartments; 2 down will be "visitable" and 2 up will not be;
All four apartments will "count" on the Town of Falmouth's Subsidized Housing Inventory;
The project will be permitted under Chapter 40B, because the lot is under-sized, and it is a change of use (currently zoned Business 1) to residential use;
The Falmouth Housing Trust annually monitors all its units and closes out all 40B permits with a final cost certification;
The Falmouth Trust has an affordability restriction in perpetuity and an agreement with the Town of Falmouth for the property's appearance.  The exterior will remain the same, with the addition of two covered steps that will flank the building, required by code.
We, here at the Falmouth Housing Trust will continue to keep the Falmouth community updated as project milestones are achieved.
Are you interested in making a charitable donation restricted for the Odd Fellows Hall Capital Campaign?  Please make your on-line donation here, or contact our Executive Director, Anne Connolly by email, or telephone.
Do you still have questions?  Please contact our office, 508-540-2370, or by email.