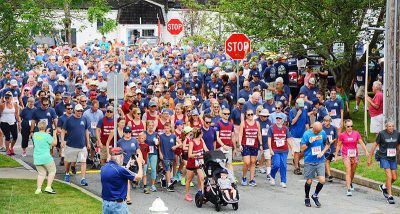 Saturday, August 18th
10:00am Start – Falmouth Town Hall Square
Register online at www.falmouthwalk.org
In-person registration:
Quarterdeck Restaurant: 164 Main Street
Friday, August 17th 4:30pm to 7:30pm
Registration on the morning of the Walk will be available beginning at 7:45 AM at the event.
$20 entry fee includes Family Picnic, big raffle, and t-shirts for first 700.
Our traditional post-Walk picnic and raffle/auction will be at the St. Barnabas Church grounds at 91 Main Street.
The 28th annual Falmouth Walk starts off on Saturday, August 18 at 10:00 AM at Town Hall Square. The distance is 3.2 Miles.
The picturesque course flows through the charming streets of Falmouth, with a scenic view of Surf Drive Beach and a bustling Falmouth Harbor. The last stretch takes you along the storefronts of Main Street to the finish at St. Barnabas Church by the Town Green.
Our family-friendly walking event benefits several Falmouth area charities and non-profit causes. Last year, thanks to the walkers, donors, and sponsors we were able to raise and distribute over $30,000.
All proceeds benefit 10 Falmouth charities:
Falmouth Military Support Group
10-19 Foundation
Falmouth Service Center
Falmouth Housing Trust
Friends of the Falmouth Senior Center
Falmouth Prevention Partnership
Ellen T. Mitchell Scholarship
Haven for Healing
Around the Table
People for Cats
The Falmouth Walk Committee thanks its corporate sponsors:
Quarterdeck Restaurant
Cooperative Bank of Cape Cod
Cutter Financial Group
Falmouth Road Race, Inc.
Sam Adams
Poland Spring
Smitty's Ice Cream
See more at www.falmouthwalk.org and follow them on FB.com/FalmouthWalk