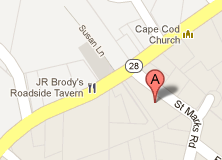 The Falmouth Housing Trust was selected by the Town of Falmouth to develop three units of affordable home-ownership at this municipally owned site.  The Trust is under agreement on the property with the Town of Falmouth.
Currently FHT is gathering cost estimates, and number crunching as part of our due diligence.  Important project facts to note:
The three houses will be constructed on a 1-acre lot and because of this will be permitted under Chapter 40B;
The three houses will be built for use by families and will include two Cape style and one ranch style houses;
One of the three houses will be "visitable" for improved access;
The Trust will include evergreen planting and fencing to minimize the impact on neighbors;
The three houses will be sold to individuals and families making 80% of the Area Median Income in Falmouth, Massachusetts, as determined annually by the federal government.
All qualified buyers will have; good credit, their own modest savings for a down-payment, be employed in stable positions, have their mortgages financed by local lenders, and to the extent allowed by Fair Housing Law, be living and or working in the Town of Falmouth;
The property, 761 Teaticket Highway, was taken in a tax-taking in the early 1980s.
All property owners of houses constructed here will pay their own property taxes, be responsible for the upkeep and maintenance of their houses, and their houses will "count" on the Town of Falmouth's Subsidized Housing Inventory;
The Falmouth Housing Trust annually monitors all its units and closes out all 40B permits with a final cost certification.
We, here at the Falmouth Housing Trust will continue to keep the Falmouth community updated as project milestones are achieved.  Are you interested in making a charitable donation restricted for the 761 Teaticket Highway Capital Campaign?  Please make your on-line donation here, or contact our Executive Director, Anne Connolly Saganic by email, or telephone.
Do you still have questions?  Please contact our office, 508-540-2370, or by email.